Have you always wanted to create automated workflows in WordPress to reduce administrative tasks and save time?
Many users perform manual tasks in WordPress to manage their website. Wouldn't it be nice if you could automate these tasks and create smarter workflows for your users?
In this article, we will show you how you can easily create automated workflows in WordPress using Uncanny Automator. This can save you time, provide a better user experience, and grow your business.
Why create automated workflows in WordPress?
Website owners spend a lot of time doing repetitive tasks in WordPress. For example processing form data, upselling products or offering support.
You can save time by creating automated workflows for these repetitive or manual tasks. It also gives your customers an uninterrupted, interactive, and much better user experience.
By now you would think that automating these tasks shouldn't be difficult. The problem, however, is that WordPress plugins don't communicate very well with each other or with third-party apps.
For example, if you're using WooCommerce and a contact forms plugin, the only way those two can communicate with each other is if a plugin creates an add-on to do just that.
This is where Uncanny Automator comes in.
What is Uncanny Automator?
Uncanny Automator is the best WordPress automation plugin that allows you to create automated tasks and workflows without writing any code.
It acts as a bridge by helping you integrate different WordPress plugins and allowing them to communicate with each other.
For example, you can submit a contact form and add it as a membership subscription.
You can even connect two separate WordPress websites to work together. For example, you can sell products on one while creating users and setting up access on another.
In summary, Uncanny Automator is like Zapier for WordPress websites.
In fact, it works with Zapier too, so you can integrate WordPress actions with over 2,000 external apps, including Google Drive, Slack, Asana, Twitter, Instagram, and more.
Let's take a look at how to use Uncanny Automater to create automated workflows in WordPress.
Create automated workflows in WordPress
The first thing you need to do is install and activate the Uncanny Automator plugin. For more information, see our step-by-step guide on installing a WordPress plugin.
Once activated, you will also be prompted to install the free version of the Uncanny Automator core plugin. This light version of the plugin is limited in its functions, but is used as the basis for the pro version.
Next you need to go Automator »License Activation Page to enter your license key. You can find this information under your account on the Uncanny Automator website.
After activating the license you can now create automated workflows in WordPress. The creepy automator calls them "recipes".
Just go to Automator »Add new Page to create your first recipe. You will be asked to choose whether you want to create a recipe for "Signed in" or a recipe for "Anonymous".
Registered recipes can only be triggered by registered users, and anonymous recipes can be triggered by any user.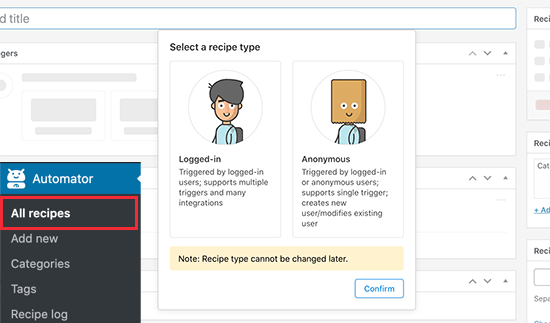 Choose a recipe type based on the workflow you want to create and then click the Confirm button.
For this tutorial, we will create an anonymous recipe using the WPForms plugin. It's the best WordPress contact form plugin used by over 4 million websites.
There is also a limited free version called WPForms Lite that you can use to try this recipe.
Pro tip: Here you can check out all the UncannyAutomator recipes and plugin integrations.
Next, you'll need to provide a title for your recipe. This title is not publicly visible to the user, as it only serves to identify a recipe.
For this tutorial, we'll add a new WordPress user account when someone submits a contact form on our website.
Every recipe in Uncanny Automator has two parts Triggers and Actions.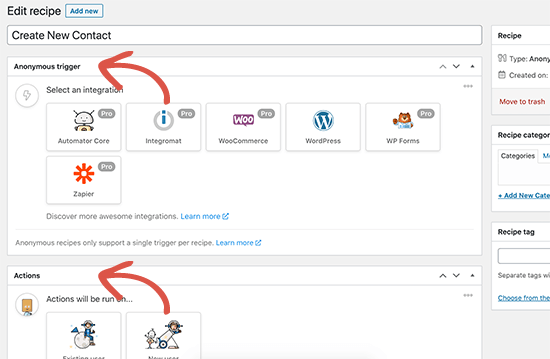 The triggers are the events that start the recipe and execute the processes you have defined. Actions are the tasks you want to perform when the recipe is executed.
First you need to set the trigger part of the recipe by selecting an integration.
The Automator will detect any existing integrations you may have installed on your site. As you can see in the screenshot, WooCommerce and WPForms were detected automatically.
As an integration, click WPForms to continue.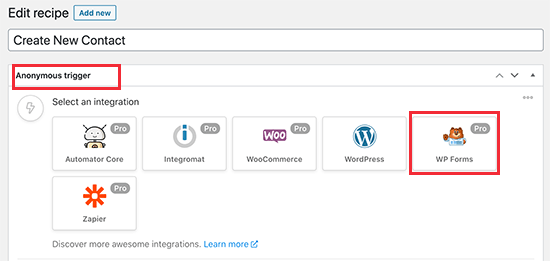 Next, you will be asked to select the event that will trigger this recipe. Choose when to submit a form.
You will then be asked to select which form should trigger the action. You'll see a drop-down list of all of the forms you've created with WPForms.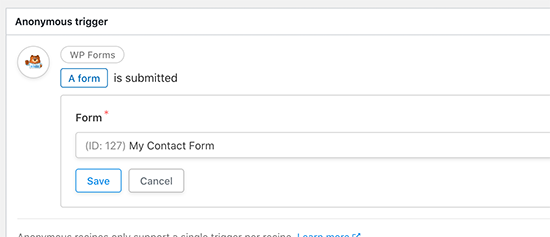 Just select your contact form and then click the save button.
The Automator will now save your trigger and you can proceed to the Actions section. Depending on your recipe type, you will see different options for anonymous and logged in recipes.
Since we are creating an anonymous recipe, we will only see the options that allow this action to be performed on an existing or a new user.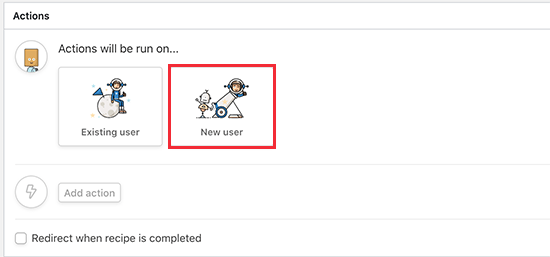 Click "New User" to continue.
Automator will now ask you to specify the user data you want to use. You will see a form with the fields to create a new user in WordPress. You'll need to click the asterisk next to each field and select your WPForms contact form.
The machine will then show you the form fields that you can use here. For example, we use the Name field for the first name and the E-mail address field as the username and e-mail address for the user account.
Below you can see settings such as the user role and what to do if the user already exists. You can select Subscribers as the user role and Do Nothing for existing users.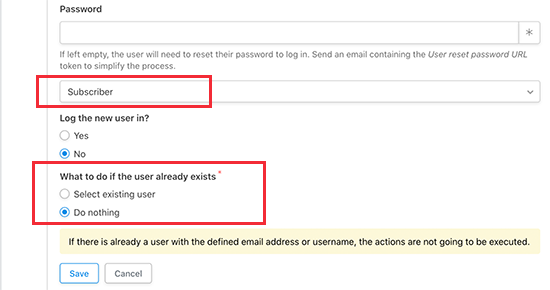 Click the "Save" button to continue.
After you've set the dates, you'll need to click the Add Action button and select an integration. In this case it would be WordPress.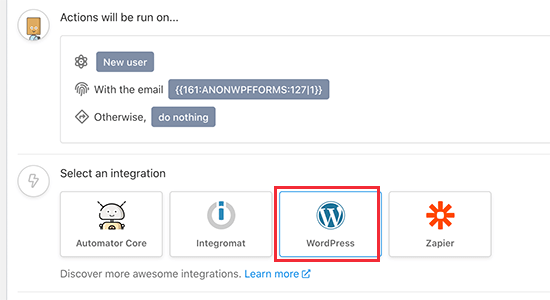 Next, the Automator will show you a list of the actions you can take on this integration. Go ahead and choose "Create User" from the drop-down menu.
You will be asked again to link the user account fields with the form data fields. Simply click on the star symbol and map your form fields.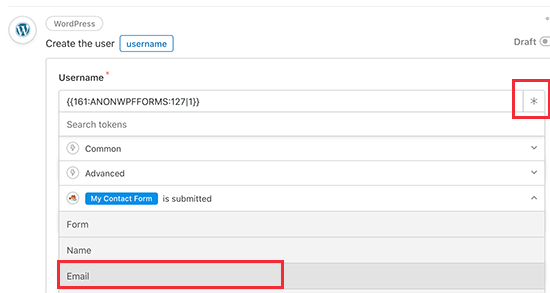 After you have matched your form fields, click the "Save" button to save your action.
You can now activate this recipe by toggling the design switch in the "Recipe" field.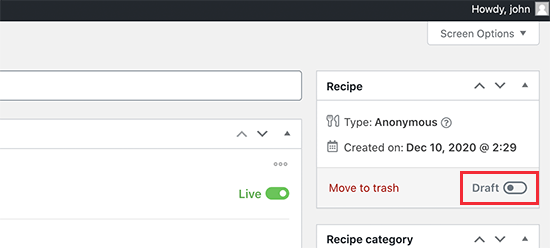 Don't forget to test your workflow and make sure that the recipe is triggered and performs the tasks that you have set as Actions.
View your automation logs in WordPress
Once you've created some automated workflows on your website, you'll want to keep an eye on all of the automation tasks in the background.
Uncanny Automator keeps track of all automation recipes, triggers and actions executed by the plugin. You can view them by visiting Automator »Recipe Log Page.
In this tutorial, we've just scratched the surface of the really powerful Uncanny Automator plugins. You can use it to connect Elementor, WooCommerce, Formidable Forms, GiveWP and dozens of other WordPress plugins to work together with smart workflows.
That is why we invested in Uncanny Automator earlier this year through our WPBeginner growth fund. If you would like us to add integrations with specific plugins please leave the feedback on the Uncanny Automator website.
We hope this article has helped you create automated workflows in WordPress using Uncanny Automator. You might also want to see our comparison of the best drag and drop WordPress page builders for creating custom layouts and our step-by-step guide on creating a business email address for your blog.
If you enjoyed this article, please subscribe to our YouTube channel for WordPress video tutorials. You can also find us on Twitter and Facebook.