WordPress 5.6 was released earlier today and is the last major version of 2020.
This new version contains many improvements and new functions. It also includes a brand new default WordPress theme.
In this article, we're going to tell you what's new in WordPress 5.6 and what features to try after you've updated your websites.
WordPress 5.6 is a major version. If you are not on a managed WordPress hosting service, you will need to start the update manually.
Important: Don't forget to make a full WordPress backup before starting the update.
With that said, here's everything that's new in WordPress 5.6.
Twenty One Twenty One – The new default WordPress theme
WordPress traditionally publishes a new standard theme every year, usually named after the year. WordPress 5.6 includes Twenty Twenty-One as the new default WordPress theme.
This new theme provides an artboard for the WordPress block editor and site editing features. It's designed to be simple, aesthetically pleasing, unbiased, and refreshing.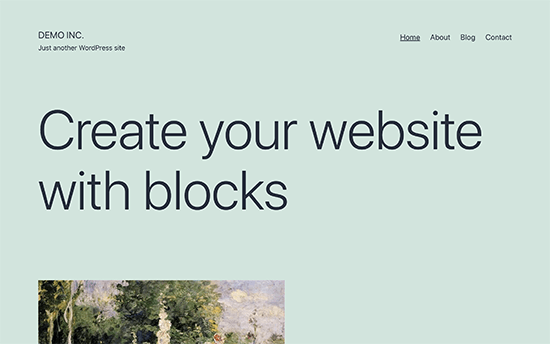 Twenty Twenty-One uses a pastel green background color and two shades of dark gray for text. It also comes with dark mode colors that can be activated by customizing the theme.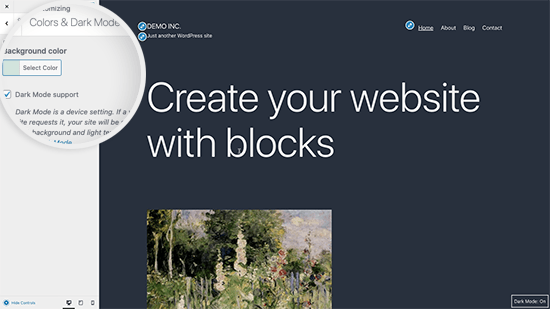 You can also change the background color by choosing from several pastel colors or by choosing your own colors. The theme automatically adjusts the text color as well.
Here's a preview of what these built-in color combinations would look like.
For the typography, designers opted for the standard system fonts. This means that no additional font files need to be loaded and sub-themes can easily be created with their own typography and fonts.
If you're testing the theme with a new WordPress website, you can try the new homepage layout. Just go to the Appearance »Customize Page and click the Publish button to generate basic web pages including a homepage.
This sample home page gives you an idea of ​​what you can do with the block editor. You can easily edit the page and replace it with your own content.
Earlier this year, WordPress 5.5 introduced patterns for the block editor. Twenty Twenty-One takes advantage of this feature by adding new block patterns that you can use in your posts and pages.
Overall, this is a beautiful WordPress theme that is easy to customize and can be used to create any type of website.
The block editor improvements
In the WordPress content editor, users spend most of their time writing blog posts, creating pages, and creating layouts. WordPress 5.6 brings some improvements to the block editor.
Here are some of the most noticeable changes to the block editor in WordPress 5.6.
Video position control for the cover block
Previously, only position controls for images were displayed in the cover block. With WordPress 5.6, users can now use the cover block to set the video position within the cover block.
Patterns organized in categories
The sample window under the "Add New Block" column now has a category switch. This makes it very easy for users to find and use a pattern that they need. Users can also view the patterns available with their theme and distinguish them from the standard ones.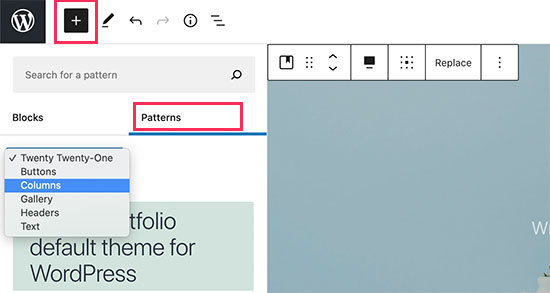 Keyword variations to improve block search
With the block editor, developers can now save keyword variants that users can use to find a block. This would improve the block search functionality and allow users to recognize blocks added by block libraries or third party plugins.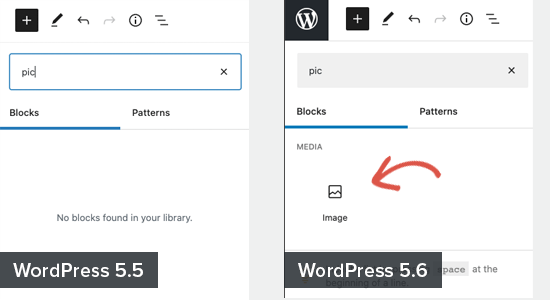 Sign in the information area
The Inspector now shows characters, words, paragraphs, and blocks that are used in your content.
Color support for the list block
The list block now has the ability to select text and background colors without adding the list to another block.
Block of social symbols
The Social Icons block has two improvements. First, there's a new gray style for social icon buttons. Second, users can now open all the links in the block in a new window.
Bonus: Do you want to increase the number of social shares? Here's how to add the number of social shares in WordPress.
Editor options are now referred to as settings
The standard block editor has a settings panel in which you can set up the editor according to your needs. In WordPress 5.6, this modal is now called "Settings" instead of "Options".
The modal itself is now more helpful with descriptions for various elements. This would make it easier for beginners to decide which items to enable.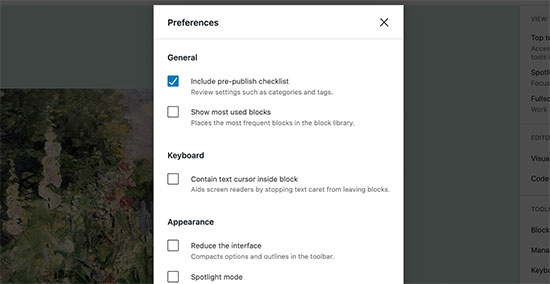 Automatic updates for important WordPress versions
Earlier this year, WordPress 5.5 made it easier for users to enable automatic updates for certain plugins. WordPress 5.6 expanded this with the option to activate automatic updates for important WordPress versions.
You can go to Dashboard »Updates In the administration area of ​​WordPress click on the link "Activate automatic updates for all new versions of WordPress".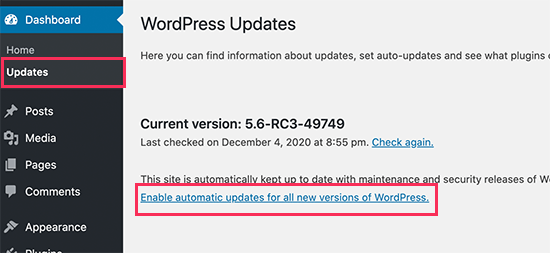 This is completely optional so that you can decide whether or not to enable this feature. If you are using managed WordPress hosting you don't have to worry about that as WordPress will automatically update for you.
Support for PHP 8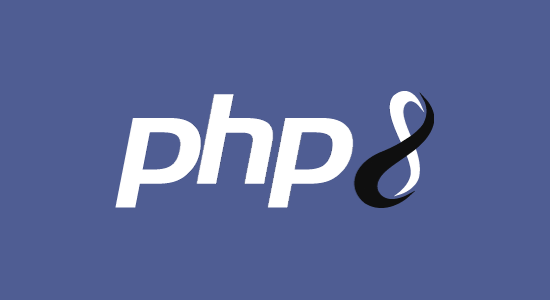 WordPress is mainly written using the PHP programming language. Just like WordPress, PHP is also releasing new versions to improve performance, add features, and fix bugs.
PHP 8 was expected to be released on November 26, closer to the release of WordPress 5.6. The core team planned and worked hard to identify and fix known compatibility issues with PHP 8.
This will ensure that users upgrading to the latest PHP version will not have any major problems. However, theme and plugin developers may still need to test their own code for compatibility.
Application passwords for the REST API
The REST API in WordPress enables developers to communicate with a website outside of the WordPress installation.
To ensure security, WordPress used cookies and nonce keys to ensure that only legitimate users can access the API. For developers, working with these methods has not been very efficient.
WordPress 5.6 allows developers to use application passwords in WordPress. As with the popular Facebook and Google platforms, users can now grant apps access to their website and manage them through the website User »Profile Page. Users can also revoke access to an app at any time.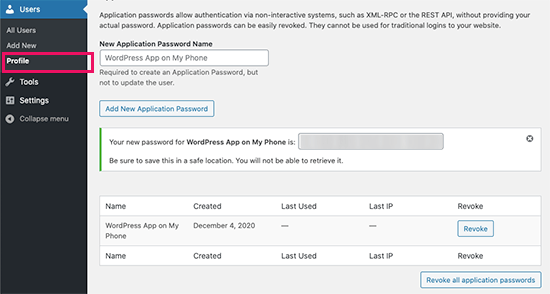 Changes under the hood
WordPress 5.6 has arrived with tons of features and improvements for developers. The following are some of the key changes under the hood.
WordPress 5.6 continues the second phase of the three-step plan to update the core jQuery bundled with WordPress. Design and plugin developers who rely on jQuery are already testing their code for problems, so a large number of users are unlikely to be affected. (See details)
The new version 5.6 also includes the REST API Batch Framework for executing a series of REST API calls in one request to the server. (See details)
A new action wp_after_insert_post is also available in WordPress 5.6. Theme and plugin developers can run custom code after updating a post and its terms and metadata. (See details)
WordPress 5.6 has replaced older PHP type conversion functions with type casts. (# 42918)
In WordPress 5.6, the ability to merge was also introduced WP_Error Objects into one another. This allows developers to add more than one data item to the WP_Error object. (# 38777)
We hope this guide has helped you explore what's new in WordPress 5.6. We are particularly pleased about the new standard theme and the improvements to the block editor.
What are you looking forward to? Let us know in the comments below.
If you enjoyed this article, please subscribe to our YouTube channel for WordPress video tutorials. You can also find us on Twitter and Facebook.